About Us
We are the Corontzes Family and have loved living and working in South Carolina our entire lives, beginning at our grandparent's notable Capitol Café in downtown Columbia right in front of the State Capitol building.  It was a 24 hour-a-day diner where we all held down our first jobs as young teens.  Then, one by one, all came to Clemson University as freshmen ranging from the years of 1972 to 1988.  Four of the five brothers who came here for school; Nick, Zach, George, and Ted either stayed or returned to Clemson to become restaurateur partners. 
After Nick's sudden passing in August 2010, his wife Nancy joined the partnership after working for the restaurants in administration and hosting for many years.  Other family members have key roles in both restaurants as well.  Among this next generation, with Clemson degrees and strong culinary training, the interest, work ethic and talent is there to carry on the family tradition.
These two Clemson restaurants are our chance to offer our local patrons and visitors a place to relax, and enjoy great meals and libations in a comfortable and welcoming atmosphere.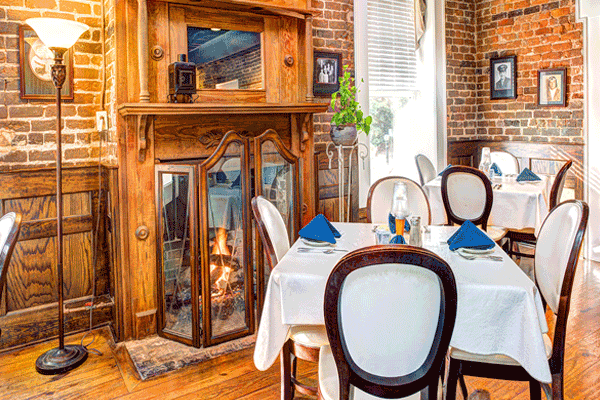 Calhoun Corners Restaurant, built in 1893 with local hand made brick, served as a civic and social center for the community of Calhoun, SC. It served as the original site of Fort Hill Presbyterian Church in 1895 and was then operated until 1957 as a general store by Norman Boggs. Following a renovation in 1974, the building was renamed Calhoun Corners, and finally became Calhoun Corners Restaurant in 1979.
Calhoun Corners Restaurant operated successfully until a fire in the early morning hours on November 1, 1997. With the Corontzes brothers' and Olson family's combined efforts, reconstruction plans were immediately pursued preserving everything possible from the original structure. The careful blending of the new construction to accentuate the preserved portions was completed, and Calhoun Corners Restaurant and Bar proudly reopened its doors in December 1998.
Calhoun Corners Restaurant  is quietly located one block off Highway 123 at 103 Clemson Street in Clemson, SC, near the Clemson University campus. Across the train tracks next door is  the original Amtrak station, which still operates and  is also home to the Clemson Chamber of Commerce and Train Museum.
The courtyard garden entrance at Calhoun Corners Restaurant lies under the shade of one of the state's oldest Post Oak trees and is a favorite sitting spot for customers before or after dinner, especially for photos. Come enjoy the ambience Calhoun Corners has to offer for your next Clemson dining experience.
MON – SAT
Starting at 5:00pm

For Reservations Call
(864)654-7490